Avery Dennison – Materials science is in our DNA
Avery Dennison is a materials science and manufacturing company specialized in the design and manufacture of a wide variety of labeling and functional materials. Our expertise and global scale enable us to deliver innovative, sustainable and intelligent solutions to customers all over the world.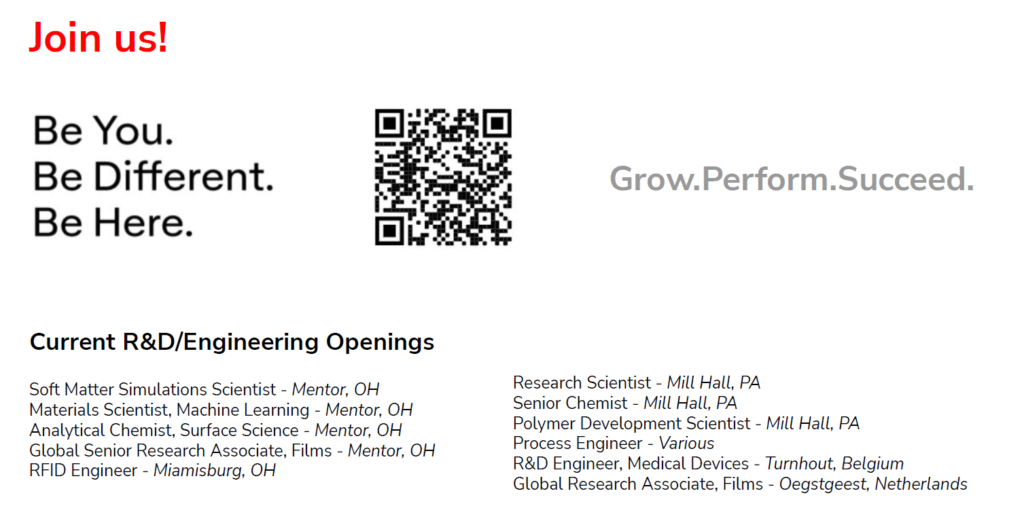 Axalta
Axalta is a global leader in the coatings industry, providing customers with innovative, colorful, beautiful and sustainable coatings solutions. With more than 150 years of experience in the coatings industry, Axalta continues to find ways to serve more than 100,000 customers with the finest coatings, application systems and technology.
Axalta has remained at the forefront of the industry by investing in its innovative solutions. We engineer technologies that protect customer's products – whether they are battling heat, light, corrosion, abrasion, moisture, or chemicals – and add dimension and beauty with colorful finishes. We have a vast and ever-evolving portfolio of brands primed to play an important part in everything from modernizing infrastructure around the world to enabling the next generation of electric and autonomous vehicles.
Axalta operates its business in two segments: Performance Coatings and Mobility Coatings, which serve four end markets, including Refinish, Industrial, Light Vehicle and Commercial Vehicle, across North America, EMEA, Latin America and Asia-Pacific. Our diverse global footprint allows us to deliver solutions to over 140+ countries and coat 30 million vehicles per year. We've recently set an exciting 2040 carbon neutrality goal, in addition to 10 other sustainability goals, and we take pride in working with our customers to optimize their businesses and achieve their goals.
Some of the positions we are currently recruiting for include:
Scientist
Sr. Scientist
Research Associate
Process Engineer
Lab Technician
More information can be found at https://www.axalta.com/corporate/en_US/careers.html

Internship and Early Career Positions at Intel
At Intel you will discover a wide range of careers and put your knowledge and experiences to work right away. Come build the future with us; find your open role from internship to early career opportunities.
Select your Internship or College Graduate position by your major. For example, Graduate Internship Chemical Engineering. Apply at jobs.intel.com.



EVONIK –

LEADING BEYOND CHEMISTRY
Evonik is one of the world's leading specialty chemicals companies.
We may not manufacture tires, mattresses, medications, or animal feeds, but Evonik is part of all of those products –and many more. While we often contribute only small amounts of material, those contributions are precisely what make the difference. That's because Evonik products make tires fuel-efficient, mattresses more elastic, medications more effective, and animal feeds healthier. That's what specialty chemicals are all about. And when it comes to specialty chemicals, we're among the best in the world.
Evonik is one of the world leaders in specialty chemicals. The company is active in more than 100 countries around the world and generated sales of €15 billion and an operating profit (adjusted EBITDA) of €2.38 billion in 2021. Evonik goes far beyond chemistry to create innovative, profitable and sustainable solutions for customers. More than 33,000 employees work together for a common purpose: We want to improve life, today and tomorrow.
The company has created two new programs providing industrial experiences to recent doctoral graduates and current PhD students. The industrial fellow program is a 15-month post-doctoral position. The Ph.D. student internship is a 12-week summer program. Details can be found on the Evonik careers website https://careers.evonik.com/en. Traditional direct hire positions at all experience levels are also posted on the Evonik careers site. Evonik is seeking chemists and chemical engineers to support the business growth in North America.

Arkema – a leader in Specialty Materials
Building on its unique set of expertise in materials science, Arkema designs materials to address the ever-growing demand for innovative and sustainable materials, driven by the challenges of new energies, new technologies, the depletion of resources, mobility, and increasing urbanization.
The Group is structured into three coherent and complementary segments dedicated to Specialty Materials (Adhesive Solutions, Advanced Materials, and Coating Solutions) accounting for 85.5% of its sales, and an Intermediates segment leveraging competitive and global product lines.
Sustained by the collective energy of its 20,200 employees, Arkema operates in some 55 countries and reports sales of €9.5 billion.
More information about Arkema can be found at https://www.arkema.com/global/en/arkema-group/profile/.
Chroma Color Corporation is a leading specialty color and additive concentrate supplier serving diverse markets, including wire and cable, packaging, health care, pharmaceutical, consumer products and others. With the recent acquisition of Epolin, Chroma Color is now the recognized leader in the near-infra-red (NIR) absorptive dye industry, producing proprietary blends to suit the eye protection and light management sectors. Chroma Color's growth strategy includes robust organic and inorganic growth through nine acquisitions over three years. Chroma's extensive technical leadership and manufacturing expertise, coupled with its game-changing colorant, has delighted customers for over 50 years: chromacolors.com